The Five Projects Rule (A new year's resolution worth keeping.)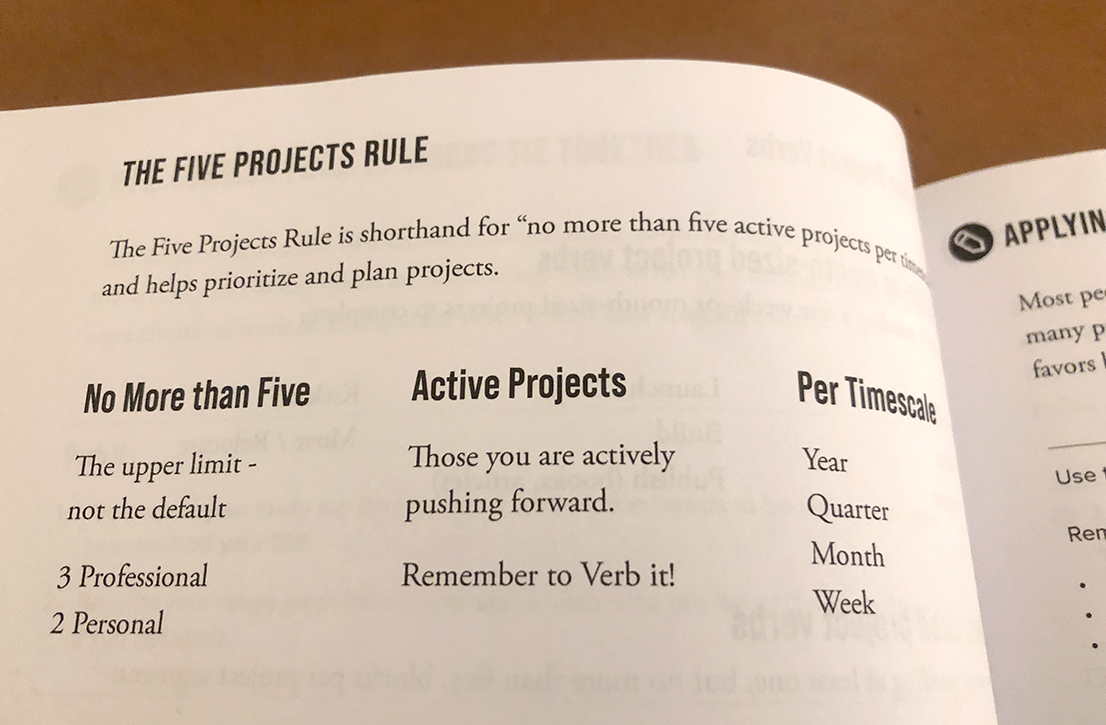 The best thing about working with new clients and projects is that there is always something new to learn.
Have you ever felt overwhelmed? (Haha, never!) When that's happened, did you ever stop and count how many active projects were on your plate during the same timeframe?
As described in the Start Finishing Field Guide, the five projects rule states that you can have "no more than five active projects per timescale."
Keep in mind that everything is a project.
Writing a proposal for a new client.
Preparing a project presentation.
Testing a dev website.
Migrating to a new bookkeeping system.
Visiting college campuses with your kid.
Finding a memory care facility for your mom.
Getting estimates for a new garage roof.
Whether it's business or personal, it counts as a project.
Add a timeframe. A week, a month, a quarter.
You can see how quickly you might get to 5 active projects, or well beyond, during the same timescale.
The Start Finishing Field Guide (page 57!) has a worksheet to help you apply the Five Projects Rule. It might require some wrestling and recalibrating, or some delegating, to get more realistic about what you can do (and do well, while remaining healthy) in a given timeframe.
We all have great ideas, which turn into all kinds of interesting projects. The Five Projects Rule helps you get real.
Learn more about the Start Finishing Field Guide from Productive Flourishing — a delightfully anti-hustle-culture approach to getting important work done — or get a copy.