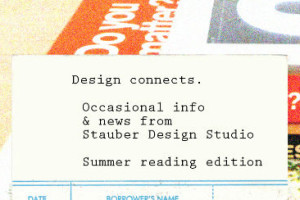 Classics for your reading list.
Frivolous vacation reads are a must, but it's also good to recharge your communication batteries. Here are some favorites for great summer reading:
1 | Do you matter? How great design will make people love your company
This book, by Robert Brunner and Stewart Emery with Russ Hall, explains how design helps you make an emotional connection with your audience — and much more. Chapters such as Your Brand Is Not Your Logo and Your Products and Services Are Talking to People provide clarity and insight. Design is not about applying a veneer; it's a way of thinking, planning and being.
2 | Any book by Edward Tufte
Tufte's books are exquisite on every level. Once you drink his information design Kool-aid, you'll never look at a spreadsheet or info graphic in the same way. Even a quick browse will get you thinking about how your content can tell a better story.
3 | By Design
Ralph Caplan's classic includes one of my favorite passages of great insight into collaboration, especially how engineers and designers see things differently. If you have ever been in a use case session to develop software, you've seen what he describes — points of view that not may seem to mesh at first but, if connected well, can lead to terrific results. Read Ralph and you can get everyone on the same page.
500+ pages packed with Tom Peters' insight and enthusiasm for ways to pursue Excellence (with a capital E) on every level. Now in paperback too.
This list could include dozens of books, and even some films. If you'd like more suggestions,
drop a note.