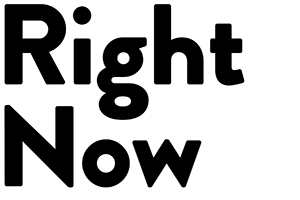 Readings for Finding Hope and Creating Confidence
We have worked on a lot of books. Like our clients in the book publishing and book e-commerce space, we believe in the unique power of books to help people experience new ideas, to reflect, and to grow in all kinds of ways, personally and professionally.
During this strange time, when we are all quarantined at home, books are a great resource to find all kinds of things — meaning, humor, recipes, inspiration, business advice, and more.
When long-time collaborator/friend/client/publisher Todd Sattersten mentioned he was pulling together a collection of readings, we volunteered to help with the design. (Design as therapy! We can't control coronavirus, but we can control a page layout and create something that is helpful and beautiful.)
Right Now: Readings For Finding Hope and Creating Confidence during Crisis, is a curated set of reflections from varying perspectives and across time for how to live in times of crisis. It offers inspiration, practical tips, and even some recipes.
Some sample pages are below. Give yourself a quick reading break — download the whole ebook.
We also just printed a very small run with Newspaper Club. If you'd like a copy, let us know.