We collaborate with clients to give their brands the tools they need to go out in the world and connect with their audience/people.
We build brands with legs.
Having the right systems in place allows you to align your team and set the stage for growth. Inspiring brand purpose platforms, flexible visual identities, and distinct brand stories give your brand the tools it needs to forge meaningful connections with your audiences.
We're a lean, collaborative external marketing and creative team.
We plan, create, and execute the range of communications that a growth mindset organization needs to build and grow a unified, effective brand presence. We also coach internal teams as they create campaigns in-house.
We create clarity.
Our world is full of distracting messages and a myriad of communications options. It is more important than ever to convey your big idea and your difference distinctly and quickly. Creating clarity that cuts through the clutter requires the right strategy, messages, and visual language to connect with people.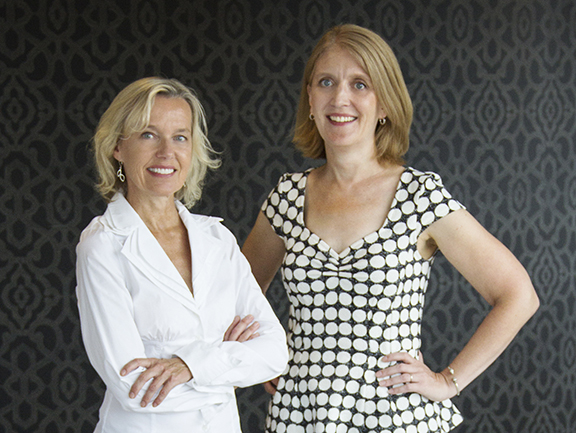 Joy Panos Stauber (right), Melinda Cross (left), and team have expertise across all facets of marketing, communications, design, and development for nimble, evolving brands.
Joy Panos Stauber believes that what's true for people is true for brands: Communication is the lifeblood of relationships. She collaborates with clients to clarify their brand purpose and vision, and translates it to permeate every communication. As a creative director and visual communicator, she has worked across a range of industries to develop creative strategies, brand identity programs, and marketing communications in many forms — print, digital, and environmental — that help clients form meaningful relationships with and motivate action in their audiences. She creates bespoke, comprehensive, visual systems that provide a strong foundation for flexible, long-term campaigns and support brand growth.

Melinda Cross is passionate about helping organizations and people identify compelling stories. She believes the right choice of words can positively influence new thinking and behaviors within your organization, your industry, and the world. As a creative director and writer, she has worked with Fortune 500s, mid-sized private companies, not-for-profits, foundations, and executives on branding, advertising, thought leadership platforms, and advancement campaigns. Clients consider her particularly adept at unraveling complex and multi-layered information and shaping it into clear and compelling messages.
Looking for strategy, design, and messaging that supports brand growth?