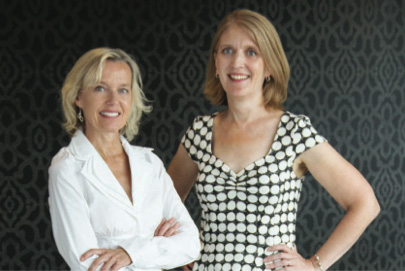 Joy Panos Stauber (right) and Melinda Cross (left) are the core of a team with expertise across all facets of marketing, communications, design, and development for nimble, evolving brands.
To that end, we work with clients to design clear brand stories and identities, and play that out across many forms of marketing communications or channels — digital, print, etc. We give brands the tools they need to go out in the world and connect with their audience/people.
We work with clients to build a clear brand story.
We are systems thinkers and we build brands with legs. Strong, flexible, extensible brand identities and communication platforms that evolve with a growing brand. Then your brand has the tools it needs to forge meaningful connections with your audiences. Across all touchpoints of your customer's journey. Across all communication channels: print, digital, events, and more.
We're a lean, collaborative external marketing and creative team.
We plan, create, and execute the range of communications that a growth mindset business needs to build and grow a unified, effective brand presence.
We create clarity.
Our world is full of distracting messages and a myriad of communications options. It is more important than ever to convey your big idea and your difference distinctly and quickly. Creating clarity that cuts through the clutter requires the right strategy, messages, and visual language to connect with people.
Looking for strategy, design, and messaging that supports brand growth? Contact us:
312 572 9309
hello@stauberbrandstudio.com