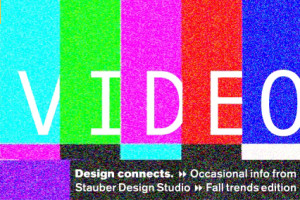 What's the hot communication topic this Fall? Video.
Why?
A well-crafted video can help you accomplish many things, a few being:
> Extend your brand vocabulary to use more emotion-rich elements of sound and imagery
> Position someone in your organization as a thought leader to clients, prospects, or the media by demonstrating expertise, a personal point-of-view for subject matter, or insight into a particular aspect of your work or your client/prospect's issues
> Provide how-to information that's clearer and more engaging than text
Why not?
Just because you can easily make moving images doesn't mean that you ought to. The format and content of the video (interview, talking head, narrative, etc) needs to support your overall branding and communication goals. And there's no bigger mistake than releasing a poorly executed video that cheapens your brand.
Some examples.
Obviously, there are many, many applications — for entertainment, explanation, education, spreading ideas (e.g. TED). A few we've worked on and/or find helpful to refer to are:
For insight and expertise: We've been developing a series of videos for Radius Global Market Research, in collaboration with Interstate Films.
For clear explanation: It's likely that you've seen Common Craft videos in a number of places. Their friendly, low tech animation style makes technical subject matter approachable.
For inspiration: The Mysteries of Vernacular series is a beautiful example of video storytelling.
How do you get started?
1. Develop a plan: Why video? How does this integrate with other modes of brand communication? What will you do with them once they are complete?
2. Assemble your team: Will you make DIY videos or are you pulling in outside resources?
3. Develop a creative approach — a format that fits your message, a storyboard and script. Determine who will deliver your message. Are they articulate and comfortable on-camera?
If you're interested in resources that help in any aspect, drop a note.