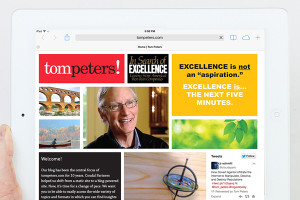 News websites: Tom Peters, Radius, and our own
It's been a busy quarter at SDS! Especially the past week as two client websites launched.
The new tompeters.com went live after a great deal of content sifting, design development, and CMS migration. The resulting site makes Tom Peters' trove of ideas and material much more accessible. A great site for business inspiration. Many thanks to Shelley Dolley at Tom Peters Company for being a wonderful, strategic and collaborative client, to Tom for having Excellent material to work with, and to House of Pretty for their exploration and attention to detail in technical development.
The radius-global.com site has updated messaging and design to support the positioning of Radius' global services and expansion as they continue to grow their presence and serve their clients in the US, EMEA and Asia. Many thanks to Chip Lister, Jamie Myers, the rest of the Radius Global Market Research team, and to Rightpoint for their support in the development process.
Actually, we've launched three websites in as many weeks. The new Stauber Brand Studio site went live quietly. We redesigned the site to better convey what we actually do with clients — and to be responsive (adaptable for optimal viewing on a range of devices). Many thanks to clients who provided testimonials, to Megan Coleman for making it all real in WordPress, and last but definitely not least, to Lizzie Callen for portfolio photography and portraits.