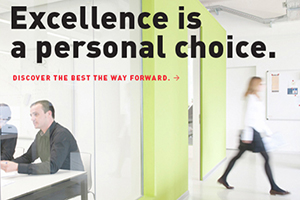 Extending the Tom Peters brand in the U.K.
Tom Peters is passionate about inspiring the pursuit of excellence among business people. But, once inspired, how do you put those ideas into practice? That's where UK-based Tom Peters Company comes in. Led by a dynamic team that has been with Tom from the beginning, they know how to help organizations — and more specifically, the people within organizations — achieve and sustain excellence.
After a new tompeters.com site was launched in 2014, Tom's counterparts in the UK asked us to redesign their website to be on brand with the main Tom Peters site, and to be more effective at telling their story. The site was redesigned to provide clear paths through brand messages and to quickly connect prospects with ideas and focused info. Content was reorganized and rewritten to provide clarity and establish TPC's positioning. The platform was redeveloped in WordPress (thanks to Su at House of Pretty) to enable TPC to easily post updates.
Many thanks to the partners at Tom Peters Company for being wonderful collaborators, open to discussing and making big changes in the brand overhaul.