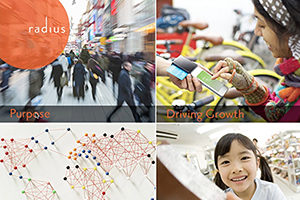 Escape PowerPoint purgatory. (Yes, you can.)
There's been a lot written about bad PowerPoint presentations. No need to rehash that here! What can be done instead?
There are new tools every day, and they all have pros and cons. Our client, Radius Global Market Research, wanted a new type of sales presentation. A more interactive, elegant, and integrated way to deliver a lot of information — company credentials, pillars of their value proposition, and case studies.
We researched a range of options and together decided that a custom, browser-based presentation would best serve their needs. Dozens of PowerPoint presentations were reviewed, edited, and distilled into a clear interface.
A start screen lays out six main sections. A keyboard-controlled menu gives quick access to deeper content. Fluid transitions and judicious use of motion graphics relay information in a well sequenced and engaging way. Salespeople can easily customize some key screens based on the prospect they are meeting with. A script and a simple user guide helped get the team up to speed quickly.
In the end, a distinct, solid, and nimble foundation to help the Radius sales team tell their brand story to prospects.
This screen recording of a very short sample gives a feel for the presentation's style and motion:
Save
Save
Save
Save
Save
Save