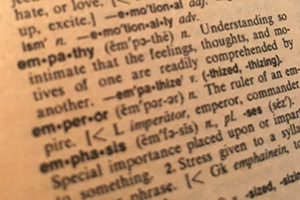 Get a better picture (literally) of who your brand wants to reach.
Want a better understanding of who your brand is trying to reach? Get out your Sharpie.
When we're starting a new project or learning about a new client, one of the first things to do is gain an understanding of who the audience is. Not audience as in a passive group. Individuals with busy lives and days full of distractions. People who will love your brand, product, or service once they can clearly see its relevance and benefit.
It's about more than demographics. It's about getting in the shoes of the people we will help the client connect with. It may not be only one type of person. Audiences may consist of different types of people with different roles in an organization, at different stages in a purchase process, different levels of knowledge or experience, different phases in life, different ages or cultures, and more.
When you want to get everyone on a project team out of their internal "curse of knowledge" mindset and give them a real picture of people you want to reach, empathy maps can be a helpful tool.
These maps can take many forms (you can Google "empathy maps" to see more). You can draw them for various personas in your market. You can draw and fill them in with someone in a one-to-one interview. You can hold sessions where participants draw themselves or each other. Note: You are drawing a person (or a couple that's acting as one in a decision-making process, as in the example above). You are not drawing one face to represent an entire industry segment. The point is to get more personal, more accurate. Want to understand a variety of people? Then you'll draw a bunch of empathy maps.
Why is this helpful? These maps offer a way to understand a real person and their situation. It can help pop you out of your assumptions. Once you see what this individual is thinking and feeling, you can feel for them and walk in their shoes. You can also see where there may be gaps* in your product or service offering, or in how you are communicating. (* a.k.a. opportunities!)
em•pa•thy  n.  Understanding so intimate that the feelings, thoughts, and motives of one are readily comprehended by another.
Save
Save
Save
Save